I used to smoke for years and I smoked quite a lot. Of course, there were reasons for quitting. I knew how much is smoking harmful and that this was the reason my husband feared for me. It just wasn't the right time to quit for good. I never believed I could do it.
One day in mid December I was looking for something not related to quitting on AXA web. I noticed the green icon of Adiquit – a quitting app and I clicked on it. I was just curious what a new useful feat AXA had created. The app looked good for the first sight. The reviews were good and I was impressed by the experts and years of experience and practice behind it. The other and crucial reason for downloading it was the fact I could be smoking freely during the first ten days of preparatory phase. I could be smoking as I was used to and also satisfy the curiosity and see what it is about.
I was not convinced I wanted to quit even when I was downloading the app to my phone. I was not convinced at all. I was enjoying it though. I met Adam, my virtual therapist, during the first day's session. There was a new session with new topic every day for the ten day preparatory period and it was great. The way of asking questions and making your own answers is really good, because what one comes up with on their own works for them. That's the way they see it. Adam was asking me various questions and I could see his intention. I think he wanted me to find genuine reasons for quitting, a way to get motivated, realize my feelings when smoking, my triggers… and I really figured it out during the sessions. At first, it was quite demanding to think of something because I didn't want to quit, did I? It was just a trial. However, I put down reasons for quitting. It was all primarily for my husband and for my health too. My motivation was that I could regain proper breathing and save some money.
I was getting into it more and more. Adam advised me to do a dry run of getting rid of the cigarettes. He wanted me to come up and try strategies to beat cravings and put off lighting one. Few days before New Year's Eve I reduced smoking that much that I smoked only 4 cigarettes a day. By that time I knew I could minimize cravings if I wanted to. My strategies worked. That was the eureka moment for me as I realized I would be able to quit for good. My husband was a great support and I was provoking myself with the thought that who can reduce it to four, could reduce it to three too…That was how I was moving forward and right before the end of the year I was convinced to quit. I started to believe I could make it. The preparatory phase helped me to believe it's worthy and also to find the courage and the belief that it's possible and I can do it.
It was an important moment, when my head allowed me to think I can succeed. And that was the very moment I decided to go for it. I wait a little so that my quit day would fall on January 1. I was fighting the withdrawal symptoms and unstable emotions the first month without cigarettes. The app was helping me in that phase too, but the first ten days of getting ready were more important for me.
There is an SOS button in the quitting phase in the Adiquit app. Such a quick aid, ideas what to do when you feel like smoking. I was ready for that from the preparatory phase though. I had the strategies written down, e.g. go jogging, do some exercise, eat something, call my husband. It really worked, the cravings faded out. It was crucial for me that thanks to the app I knew what to do and how to beat the cravings. I enjoyed the most I could praise myself for not smoking every day during that phase. I got a short message with Adam asking whether I resisted each evening and I could reply with yes. Sending the message itself felt great.
I was writing a diary for the first ten days to have some evidence of how difficult it had been. I kept it as a reminder for a moment I would by any chance felt like starting smoking again. I felt strong emotions while writing it, even depression. Apart of my coach Adam, his support and belief in me it was sport – jogging on a belt at home. The endorphins released by exercising helped me a lot to fight the depression. Even this was a piece of advice Adam gave me and I tried it on myself. One more thing – one of the strategies for beating cravings was eating something. I got worried I could put on weight after some 14 days so I started solving that. The new problem lead my thoughts away from thinking about cigarettes, I was thinking of what I was eating and I was doing even more exercise. And I felt better and better. The depression faded away and I was alright a month after I had quit.
The first month without cigarettes was a difficult one. However, it could be survived day after a day. I made it thanks to Adam, my Adoquit personal coach. I would have given up on the very first day without him. With Adiquit, I was well prepared and I knew how to act. I'm really glad I don't smoke today. I actually still have the Adiquit icon on my phone. The app isn't active but the icon is still there.
I can truly recommend the app and if there is a way to support other smokers on their decision to quit, I'll be glad to do so.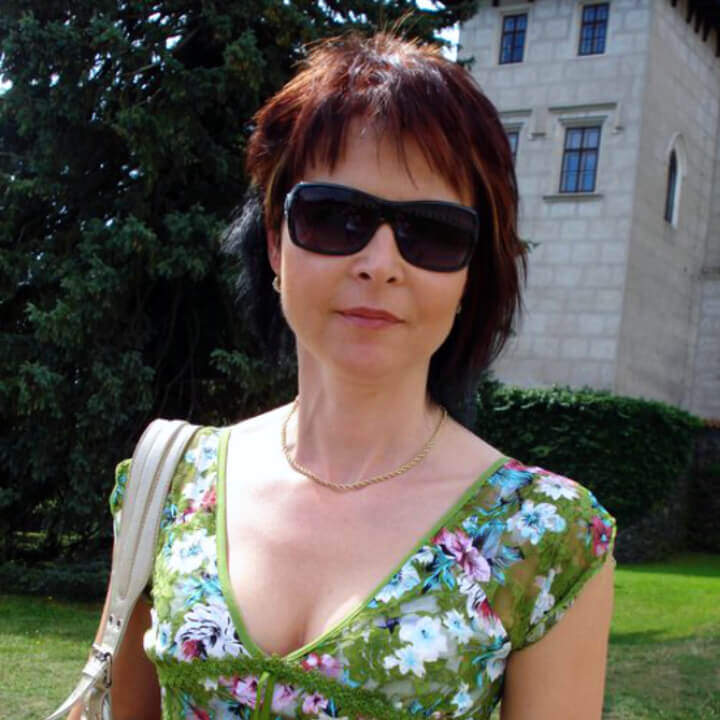 Radka Krčková
Radka (52) comes from Vysočina, is a mum of two adult children and grandma of three cute grandchildren. She enjoys going for trips to the countryside and visiting new places. She has great relationship with her husband, who was a huge support during her quitting.